Meet the Swing Team, Part 1
Millions of developers use Swing every day thanks to a team of few. As you may already know, I am working as an intern in the Swing Team, in Santa Clara, California. This means I spend a lot of time with the people behind Swing, AWT and Java2D. In this short series of posts I'd like to introduce you to them and show you our office in Santa Clara. These first shots have been taken with my old and crappy digital camera but you can expect better results for the next batch.
This is Richard Bair, leader of the SwingLabs project, working on our JavaPolis presentation in my office.
This picture is taken from my office. On the right, outside of the picture is Jeff Dinkin's office, he's our manager. On the left, outside of the picture are Amy Fowler's and Thorsten Laux's offices. On the picture, from left to right: Chet Haase's, Scott Violet's and Hans Muller's. Oh and there's Tweetie in the middle.
Some brainstorming Richard and I did for JavaPolis.
Joshua Marinacci, author of the book Swing Hacks and leader of Flying Saucer, an XHTML renderer. He arrived here a month after I did but his office is already packed with stuff and mine remains empty :)
Scott Violet, our beloved lead architect. I'm glad his office is a few steps away from mine because he always knows the answer to my questions.
Chet Haase, from the Java2D team, making a weird face, as usual when he's on a picture. Don't trust this photo though: he's usually smiling (actually, launghing to his umpteenth joke of the day :).
Jeff Dinkins has been around since I was in diapers. Ok not really. But almost :) He loves gadgets and his office is packed with cool stuff. If you need to find a gizmo, he's the guy you need! (by the way, thanks Jeff for helping me out finding a flashlight)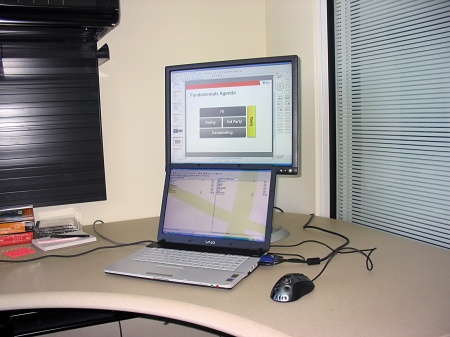 This is where I work. Ok it's a bit dull, Hans keeps making fun of me because of that, but that's how I like to work (I can accept having gazillions of books lying around but they're all home).
The Catapult of Sorrow I recently built out of office supplies and spare metal parts. Don't even ask.
That's all folks! At least for today. Next time I'll try to get pictures of Hans, Amy, Chris (from the 2D team), Tony (JMF), etc.